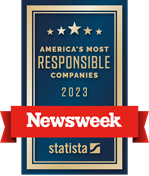 When we say "it's what's inside that counts", we mean how we conduct ourselves — and how we do business — starts with our core values. These guiding principles serve as a compass for our decisions, actions and behaviors. They form a code that transcends the boundaries of culture and geography to direct us in how to respond to issues of basic human rights. Living our values requires us to meet the highest standards of behavior in all aspects of business — all over the world. At their heart, our principles are based on two simple concepts — integrity and a concern for the welfare of others.
OUR GUIDING PRINCIPLES

Who we are
CMC provides innovative products and solutions that strengthen and reinforce a wide range of industries. We are committed to delivering industry-leading customer service, providing an environment where our employees can succeed, improving our communities and creating value for our investors. By doing this, we find better ways to make the world we all live in stronger, safer, and more sustainable.
We will always...
... place the customer at the core of all we do.
We believe that if we focus on meeting the needs of our customers, we will succeed. We work hard at understanding our customers' needs and providing creative solutions that add value to their businesses.
... stay committed to our employees.
We care for our employees by providing an environment where safety is our top concern, employees have the opportunity for both personal and professional growth, everyone is treated fairly and opinions are respected. We foster an inclusive culture that challenges conventional thinking, promotes teamwork, requires accountability and rewards success.
... give back to our communities.
We take seriously the responsibility that comes with being a good corporate citizen and are dedicated to making a positive impact in our local communities where we live and work.
... create value for our investors.
We strive to be the strongest company in the materials sector by having a passion for cost efficiency, using our resources effectively and achieving our goal of consistent, profitable growth.
We believe in...
Acting with integrity by honoring our commitments, being accountable for our actions and acting with respect for others.
Dedicating ourselves to making the safety and wellbeing of our employees a top priority.
Promoting collaboration by working together as a team to provide exceptional results.
Encouraging excellence by challenging ourselves to improve everything we do.

Truck Trailer Manufacturers Association (TTMA) Associate Winner - Plant Safety awarded to CMC Impact Metals - Pell City, AL (2022)
Excellence in Safety Awards for zero injuries by Concrete Reinforcing Steel institute (CRSI) – 38 locations (2022), 36 locations (2021), 36 locations (2020), 38 locations (2019), 18 locations (2018), 19 locations (2017), 21 locations (2016)
Safety Achievement Awards for an incident rate below 50% of the national average by Concrete Reinforcing Steel institute (CRSI) – 8 locations (2022), 9 locations (2021), 9 locations (2020), 5 locations (2019), 16 locations (2018), 15 locations (2017), 5 locations (2016)
SMA Zero Lost Time Award received by CMC Steel Florida (2021 and 2020), CMC Steel Arizona and CMC Steel Arkansas (2019)
Technical Safety Leader - Polish diploma of recognition for the high standard of technical safety in the category of "Technical devices user" – the award for CMC in 2019 in the 5th edition of the ranking of the Polish Office of Technical Inspection (UDT)
CMC Impact Metals awarded 2017 and 2019 Supplier of the Year by Great Dane Trailers
2012 Steel Producer of the Year, American Metal Market Award for Steel Excellence
Recognized as a Premier Supplier by EATON, only 200 out of 25,000 suppliers receive this elite status
Recognized as a Top Ten North American Scrap Supplier by Alcoa
CMC Recycling ranked in the top 99th percentile of the BSI/InfoQuest Survey for Customer Satisfaction compared to other industrial companies
Awarded 2019 Indirect Services Supplier of the Year for Spectrum Brands Hardware and Home Improvement Division
CMC Recycling Springfield received Missouri Recycling Association's "Legacy Recognition" Achievement Award (2022)
Received the Green Large Business Award by Keep the Midlands Beautiful (2021)
Received the John Bell Award for major and significant contributions to EAF technology by the Association for Iron & Steel Technology (AIST) (2021)
CMC Steel Florida received the 2020 Environmental Award by the First Coast Manufacturers Association.
Participation in the Salt River Project (SRP) Solar Project, ensuring at least 3% of power used at CMC Steel Arizona will be renewable solar energy.
CMC Steel Arizona awarded the Salt River Project (SRP) 2018 Champions of Energy Efficiency Award for Peak Savings
Ranked one of the Top 100 Places to Work by The Dallas Morning News (2020, 2021 and 2022)
CMC Poland ranked among the top 300 best employers in Poland in 2022 by Forbes (7th in "Production and processing of raw materials, building materials, metals and paper" category, 157th overall)
Tensar division recognized as winner of the Disability, Inclusion & Inclusive Recruitment Award at the Employee Engagement Awards (2022)
Recognized by Women's Forum of New York as a 2021 Corporate Champion for having achieved 35% or more female board representation
Received the Workforce Development Award from the Seguin Economic Development Corporation (2021)
Received SMBE Sliver Winner for outstanding leadership and management systems by the Florida Sterling Council and FloridaMakes (2021)
Recognized by Women on Boards for having at least 20% women on our board of directors (2020)
2019 & 2018 Good Employer Award, XII & XIII National Program of Corporate Social Responsibility Leaders, CMC Poland Sp. z o.o.
CMC Steel Oklahoma named the 2018 Community Partner of the Year in Durant, Oklahoma
2018 Top 25 Company for Diversity in Texas, presented at the annual Texas Diversity and Leadership Conference
CMC Steel South Carolina received the Patriot Award in 2019 in recognition of their support for employees who serve in the National Guard and the Reserve.
Named among America's Most Responsible Companies by Newsweek (2023)
Barbara Smith named a National Entrepreneur of the Year by Ernst & Young (2022)
Received the Dallas Morning News' Best Direction Award for sound strategy and clear communication to all team members (2022 and 2021)
CMC Poland receives the Silver Laurel in QUALITY category, presented by TUV NORD Poland Quality Supermen
Received the SMBE Silver Winner for outstanding leadership and management systems by the Sterling Council and FloridaMakes (2021)
John Bell Award for major and significant contributions to EAF technology, from AIST (2021)
Received the S&P Global Platts CEO of the Year Award (2020)
Received Deal of the Year at the S&P Global Platts Global Metals Awards (2019)
CMC was presented the Steel Manufacturers Association's Achievement in Innovation Award (2019)
Awarded the Steelmaker of the Year Award by the Association of Iron & Steel Technology (2019)