BUILDING LONG-LASTING RELATIONSHIPS
Product selection and pre-construction planning is crucial to a successful project. Our highly experienced team of sales professionals and technical experts can work together with the project's structural or civil engineers, DOTs, contractors or parking consultants during the design phase to determine the best solution for your project.
Project cost analysis
Working together with your team, we can prepare a complete life-cycle cost analysis based on using the appropriate types of reinforcing material throughout your project, based on the desired life cycle and budget. Our number-crunching expertise ensures the project is evaluated on both first-time costs and on life-cycle costs, as well as potential savings by choosing the best corrosion resistant material for the project, reducing steel weight, on-site placing time and field labor.
Constructability
Using 3-D concrete/rebar BIM modeling, we can evaluate your project's potential risks and consider the positive impact of converting conventional rebar to high-strength ChromX® rebar before the project begins. This allows you to:
Address potential congestion areas and overall constructability concerns
Help manage and reduce the risk of costly delays
Determine the best materials for your project
Anticipate design and constructability issues
Material cost
By leveraging our vertically integrated steel supply chain and supplier network, our process ensures material and vendor selection are aligned with procurement practices, resulting in net savings in material costs.

CONSTRUCTION SEGMENTS
ChromX® is used to build some of the world's most innovative construction projects. For over 20 years, this revolutionary steel product has been specified in public infrastructure projects and in private development projects throughout the U.S., Canada, Mexico and the Middle East.
ChromX® corrosion resistant rebar is specially formulated and designed for use as concrete reinforcement in commercial, industrial, utilities, waterways, transportation and other reinforced concrete applications, including:
Commercial buildings, high-rise structures, slabs, beams, columns
Buildings constructed with ChromX® rebar are built to stand the test of time with many benefits during construction.
Reduced project cost and lead time
Reduced rebar congestion and improved constructability
Save up to 50% in steel weight
Save up to 60% in labor cost
Sustainability by doing more with less (all ChromX® products are made from recycled scrap metal)
High rise buildings: ChromX® steel provides an innovative solution for a variety of structures. Designers can take advantage of ChromX®'s high-strength qualities, using it in foundations, shear walls and columns in high rise construction. Using ChromX® Grade 100 eases congestion, requires less steel and results in overall construction cost savings.
Parking structures: The corrosion resistant properties of ChromX® 4100 provide longer service life for parking structures and result in equal cost to competitive corrosion resistant grade 60 coated rebar products.
Exposed balconies on multi-family housing: The combination of ChromX®'s corrosion resistance along with its high-strength capabilities make it ideal for use in exposed balconies, resulting in extended service life and safety.
Decks, girders, columns, abutments
A bridge's service life (the amount of time from project completion to the first repair) depends on the corrosion resistance of the reinforcing steel inside the concrete. Corrosion begins when the chloride concentration at the steel's surface reaches the critical chloride threshold (CT) value of that steel. The corrosion continues at the corrosion rate of the steel, eventually causing cracking and spalling of the concrete and deterioration of the structure.
Advantages of designing with ChromX® for a variety of bridge components include:
Decks and abutments: ChromX® fortification against corrosion will provide lon-ger-lasting vehicular load support and assist in distributing these loads more effectively to the steel superstructure.
Girders: Corrosion resistance ChromX® bar will provide more overall strength and deck support at all vulnerability zones.
Piles/Columns: Using ChromX® to support a substructure footing (either above or below ground) ensures a longer life, higher corrosion resistance and a safer compression/tension ratio.
Basements, buoyancy rafts, caissons, cylinders, drilled shaft, pile
ChromX® products perform especially well in subterranean geotechnical construction applications. Using ChromX® in deep foundation applications can reduce the depth of concrete mat foundations, resulting in reduced usage of concrete and steel, and reduced labor costs associated with excavation.
Deep foundation applications include:
Basement foundations
Buoyancy rafts (hollow box foundations)
Caissons foundations
Cylinders
Drilled shaft foundations
Pile foundations
Dowel bars and tie bars
The uncoated, corrosion resistance of ChromX® dowels and tie bars extends pavement life and offers reduced life cycle costs in both new and rehabilitated pavement projects.
Smooth round dowels bars, generally 1", 1 ¼" or 1 ½" in diameter by 18" long at 12" spacing across transverse joints, serve as load transfer devices in plain jointed concrete pavement to bridge vehicle loads across adjacent slabs. Tie bars are deformed steel bars that connect adjacent lanes together.
ChromX® pavement dowels and ties provide more than 100 years of service life, avoiding the costs associated with maintenance and repair and the related disruption in traffic flow.
ChromX® dowel bars can be fabricated from ChromX® smooth rounds. In the field, ChromX® dowels and ties can be handled just like standard uncoated dowel bars. No special equipment is needed for placement.
The high strength benefits of ChromX® also allow for efficiencies in design and the potential of reducing the amount of materials required. This results in upfront cost savings in addition to service life longevity.
ChromX® dowel bars can be fabricated from ChromX® smooth rounds. In the field, ChromX® dowels and ties can be handled just like standard uncoated dowel bars. No special equipment is needed for placement.
Seawalls, retaining walls, docks, fenders, piers, canals and waterways, ports, marinas, permeable pile groins and jetties
Marine structures are often exposed to highly corrosive environments, making them ideal for the use of ChromX® rebar.
Different areas of the same marine structure may have different corrosion protection requirements. The full ChromX® product line allows designers and engineers to select the product that best fits the application.

Example of ChromX® applications in a pier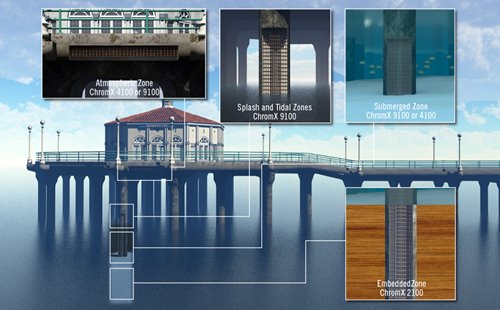 Atmospheric zone. A marine atmosphere is very corrosive due to chloride exposure from salt spray, salt fog and salt mist. For atmospheric pier members in marine environments designer should consider using ChromX® 9100 or 4100 depending on the target service life for the structure.
Splash and tidal zones. The splash and tidal zones are generally severe corrosive environments due to repeated wet and dry saltwater exposure. In this application we recommend ChromX® 9100's corrosion protection.
Submerged zone. While less corrosive than the splash zone, designers should still consider ChromX® 9100 or 4100 for the submerged zone.
Embedded zone. There is usually lower corrosion potential in the embedded zone depending on the composition and contents of the soil; therefore, ChromX® 4100 or black bar may be the right choice depending on the service life requirement.
To learn more about ChromX® or request a quote, contact us today.
Call a sales representative
Email a sales representative